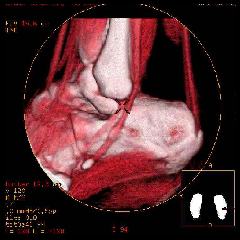 Overview

A heel spur is a projection or growth of bone where certain muscles and soft tissue structures of the foot attach to the bottom of the heel. Most commonly, the plantar fascia, a broad, ligament-like structure extending from the heel bone to the base of the toes becomes inflamed, and symptoms of heel pain begin. As this inflammation continues over a period of time, with or without treatment, a heel spur is likely to form. If heel pain is treated early, conservative therapy is often successful, and surgery is usually avoided.

Causes

There exists a membrane that covers most of the bone along the heel. When this membrane gets torn repeatedly due to straining of the muscles in the foot, the calcium deposits that lead to heel spurs are more likely to occur.




Symptoms

Although it may take years to become a problem, once it appears, it may cause considerable suffering. Because of proximity to the tendons, the spur is a source of continuous painful aching. The sensation has been described as "a toothache in the foot." When you place your weight on the heel, the pain can be sufficient to immobilize you.

Diagnosis

Sharp pain localized to the heel may be all a doctor needs to understand in order to diagnose the presence of heel spurs. However, you may also be sent to a radiologist for X-rays to confirm the presence of heel spurs.

Non Surgical Treatment

The key for the proper treatment of heel spurs is determining what is causing the excessive stretching of the plantar fascia. When the cause is over-pronation (flat feet), an orthotic with rear foot posting and longitudinal arch support is an effective device to reduce the over-pronation, and allow the condition to heal. Other common treatments include stretching exercises, losing weight, wearing shoes that have a cushioned heel that absorbs shock, and elevating the heel with the use of a heel cradle, heel cup, or orthotic. Heel cradles and heel cups provide extra comfort and cushion to the heel, and reduce the amount of shock and shear forces experienced from everyday activities.

Surgical Treatment

Almost 90% of the people suffering from heel spur get better with nonsurgical treatments. However, if the conservative treatments do not help you and you still have pain even after 9 to 12 months, your doctor may advise surgery for treating heel spur. The surgery helps in reducing the pain and improving your mobility. Some of the surgical techniques used by doctors are release of the plantar fascia. Removal of a spur. Before the surgery, the doctor will go for some pre-surgical tests and exams. After the operation, you will need to follow some specific recommendations which may include elevation of the foot, waiting time only after which you can put weight on the foot etc.